---
Why we should read the book of Revelation, Part 4
Continuing on the Timing Revelation, end times and prophecies, I pick up from Part 3 of this series of articles on "Why we should read the book of Revelation", when we are living in the the end times spoken of in the books of Matthew, Mark and Luke, in the Bible. And the book of Revelation is the last unfolding of it all.
So in the last article we left off reading verses 4 to 6 of chapter 20, reading about those who lived and reigned with Christ a thousand years, and about the 1st resurrection...
Moving on to verse 7 is where we find out what is to take place after the thousand years are over.
The doom of Satan and evil
v.7_" And when the thousand years are expired, Satan shall be loosed out of his prison,
8_"And shall go out to deceive the nations which are in the four quarters of the earth, Gog, and Magog, to gather them together to battle: the number of whom is as the sand of the sea.
9_"And they went up on the breadth of the earth, and compassed the camp of the saints about, and the beloved city: and fire came down from God out of heaven, and devoured them.
10_"And the devil that deceived them was cast into the lake of fire and brimstone, where the beast and the false prophet are, and shall be tormented day and night for ever and ever.
Now this is another mystery that I have been trying to decipher – Many believe that there are 2 Gog and Magog – the one from Ezekiel and this one.
But it is clear that the Gog and Magog that everyone is talking about being in the near future on this side of the 1000 years of reign can not be the same ones. So this is yet to be sorted out according to scripture. However, it's possible that there will be two Gog and Magog wars—one at this time and one after the thousand years. That is yet to be seen.
Verses 11 to 16:
11_"And I saw heaven opened, and behold a white horse; and he that sat upon him was called Faithful and True, and in righteousness he doth judge and make war.
12_"His eyes were as a flame of fire, and on his head were many crowns; and he had a name written, that no man knew, but he himself.
13_"And he was clothed with a vesture dipped in blood: and his name is called The Word of God.
14_"And the armies which were in heaven followed him upon white horses, clothed in fine linen, white and clean.
15_"And out of his mouth goeth a sharp sword, that with it he should smite the nations: and he shall rule them with a rod of iron: and he treadeth the winepress of the fierceness and wrath of Almighty God.
16_"And he hath on his vesture and on his thigh a name written, King Of Kings, And Lord Of Lords.
And then jumping over to chapter 20 we read about satan being bound for a thousand years
in verses 1 to 3, it says:
1"_And I saw an angel come down from heaven, having the key of the bottomless pit and a great chain in his hand.
2_"And he laid hold on the dragon, that old serpent, which is the Devil, and Satan, and bound him a thousand years,
3_"And cast him into the bottomless pit, and shut him up, and set a seal upon him, that he should deceive the nations no more, till the thousand years should be fulfilled: and after that he must be loosed a little season.."
Then we read about those who lived and reigned with Christ a thousand years.

Judgment of the Wicked
So let's move on to verses 11 to 14 which speak of the Judgment of the Wicked, This one is clear enough and should be well heeded by those who don't know the Lord or who are at present against Him – these are the ones for whom the book of revelation is particularly important at this time before it is too late:
11_"And I saw a great white throne, and him that sat on it, from whose face the earth and the heaven fled away; and there was found no place for them.
12_"And I saw the dead, small and great, stand before God; and the books were opened: and another book was opened, which is the book of life: and the dead were judged out of those things which were written in the books, according to their works.
13_"And the sea gave up the dead which were in it; and death and hell delivered up the dead which were in them: and they were judged every man according to their works.
14_"And death and hell were cast into the lake of fire. This is the second death.
15_"And whosoever was not found written in the book of life was cast into the lake of fire.
And this is where these people need to pay attention... "and whosoever was not found written in the book of life was cast into the lake of fire..."
There is a lot more in the book of Revelation. But this serves as a summary as we read together some of the important aspects of the revelation of Jesus Christ to John the apostle. 
I encourage you to get into the Word of God and read it with the eyes of end time Victory. Jesus is coming back soon and all these things will be fulfilled.
Are you in the book of life?
Is your name written in the book of life. You may be saying, "no, how do I get my name in the book of life."

Well, Jesus Christ is the door to it... Jesus said I am the way, the truth and the life" remember? In Luke 14:6, "no man comes unto the Father, but by me."
There is only one way to God and that is through Jesus Christ and the works that He completed on the cross... where he died for your sin and for mine. All we have to do is receive His gift of love:
v.16_"for God so loved the world, that he gave his only begotten Son, that whosoever believeth in him should not perish, but have everlasting life."
God the father and God the son are one and the same, and the Holy Spirit. These are not three Gods as some misinformed skeptics may like to say. God made us spirit, soul and body. But we are one individual. God is "Spirit, Soul and Body" -- Spirit is the Holy Spirit, Soul is God the Father and Body is Jesus Christ.
Jesus is the "Son" down here in His incarnation into human flesh, but He is part of the Godhead in the spiritual realm of glory.

And we, we were created in the image of God. What a glorious concept. God told us all of that in His wonderful Word of God--the Holy Bible. 
Again, "For God so loved the world, that he gave his only begotten Son, that whosoever believeth in him should not perish, but have everlasting life."
God your Creator and my Creator did this wonderful sacrifice in order to give us salvation, or redemption... we are redeemed from the "Fall into sin" of the first human beings. 
But God... 
But God... gave us Amazing Grace.
"For all have sinned, and come short of the glory of God; Being justified freely by his grace through the redemption that is in Christ Jesus" (Romans 3:23-24)
All you have to do is receive this... and you can do that by simply saying, Lord I believe that you died on the cross for me... I come to you right no and ask that you come into my heart, into my life... I repent of my sin and receive the free gift of pardon right now and ask that you make me a child of God today.

If you said that prayer sincerely, you are now a born-again child of God ready for the next life. It is important that you confess your new life and join a born-again church in your community where you can worship God, grow and fellowship with born-again Christians.
End of this series.
/DMH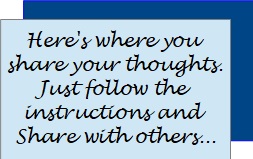 Back to Articles page
Back to Home page